Join the Email Innovation community on the mobile app, Topi
Download the official event app, Topi, on your smart device via topi.com/get.
Sign in using LinkedIn or Facebook, and enter the event code: EMAIL
App hacks:
- Access the full agenda, speakers, sponsors, maps, eZone, & more
- Create your personal agenda by bookmarking sessions
- Network one-on-one with fellow event participants
- Communicate with everyone in Live Chat, the group chat room
Want to win an Apple Watch?
Earn points for engaging on the app! The top 10 point leaders by 12pm on Thursday, May 19th will be entered into a drawing for an Apple Watch! The prize winner will be announced on the app.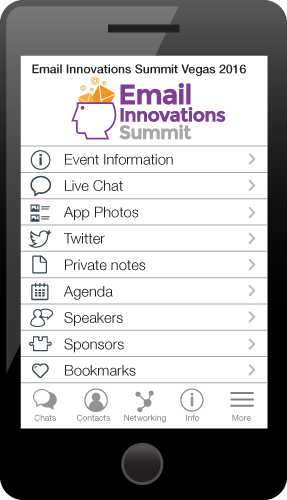 Ezone
Maximize your conference experience at the eZone, the Experience Zone.
Event Photo Contest
Post your event photos on Twitter with hashtag #EIS16 to be entered to win a prize in four different contest categories! Full details below.*
Video Testimonials
Shoot a video testimonial for a chance to win a free conference pass. Winner announced at Passport Drawing.
Feedback & Goals Wall
Challenge yourself to meet your career goals at the conference and let us know your feedback.
Photo Booth
Take photos with your new friends complete with hats, feather boas, mustaches and more! Be sure to enter the Photo Contest.
Dinner with Strangers Sign-Ups
Sign up at the eZone to be placed in a networking dinner group. Dinner groups meet Wednesday at 7:15pm at the Rio Front Entrance & Valet
Play Games
Have fun networking over Cornhole, Checkers, Connect Four, and more!
Turn in your Passport
The Sponsor Passport Drawing will take place on Thursday, May 19th in the Exhibit Hall.
Morning Workouts
Join us Wednesday and Thursday for a 45-minute group run or walk. Meet both days at 6:30am at the Rio Front Entrance & Valet
Enter the Photo Contest for your chance to win prizes! Post photos for each contest category on Twitter with the event hashtag, #EIS16.
Photos must be posted by Thursday, May 19th at 5:00pm and prizes will be announced via Twitter by Friday, May 20th.
Categories:

Best Group Photo
Best Selfie
Best Picture with a Conference Chair or Speaker
Best Random Pic with an Event Logo